Last Updated on by Natalia Bickell
One of the most common complaints of protein supplements is an upset stomach. Cramping, gas and bloating are just a couple side effects of protein powders. This isn't necessarily due to the quality of ingredients, although that can play a part, but rather that many people are somewhat lactose intolerant.
While you may enjoy a glass of milk or a bowl of ice cream without a problem, sometimes just one cup of a protein shake can send you quickly to the bathroom.
In a Hurry? Bottom Line Up Front: I really Yuve All-in-One protein. It's a great non-dairy alternative, but doesn't skimp on the core ingredients that you need AND includes a unique digestive blend precisely made to target stomach sensitivities.
The most popular protein powder supplements are made of whey, which is a dairy product. If you have a very sensitive stomach you should skip pure whey and instead look into dairy alternatives, whey isolate powders or blends.
Here are 6 of some of the best protein supplements for those with finicky stomachs.
Best Overall
Contains special digestive blend specifically for stomach issues
All natural, Non-GMO, Soy-free
Has zero fat
Runner Up
Plant-based vegan protein powder
A vegan blend of 4 types of proteins
Allergy and lactose-free and best non-dairy alternative
You might not have heard of Yuve. It's a rapidly growing supplement brand with a delicious all-in-one protein shake.
Yuve offers a plant-based protein blend (easier on the stomach) that is soy-free, non-GMO, and all-natural.
The key distinguishing factor for Yuve is the inclusion of a unique "Digistive Blend" made up of inulin, organic guar gum, flaxseed protease, and buckwheat sprout. This blend is specifically meant to target the digestive track and deal with many of the common sensitivies around mainstream protein supplements.
In addition to the digestive enzyme blend, Yuve leverages pea protein and rice protein, known as the most gentle plant-proteins out there.
Topping it off, Yuve includes a Metabolism and Energy Blend (chia seeds and greens) and a Healthy Aging Blend (prune, raspberry, silica, goji berry, acai berry, and grape powder).
Nutrients per scoop:
110 calories
0g fat
2g sugar
13g carbs (including 8g of fiber)
15g protein
Metabolism and Energy Blend
Healthy Aging Blend
Digestive Blend
Plant Protein Blend
The unique blends and digestive tract focus make Yuve Protein our TOP pick for the sensitive stomachs this year.
Check the Latest Deals on Yuve
Another excellent protein supplement for those with sensitive stomachs is plant protein powders. There aren't as many plant-based or vegan protein powders on the market and it can be difficult to find a high-quality one. SAN Nutrition has one particularly good raw plant protein powder call Rawfusion.
Benefits of Rawfusion include:
Nutrients per scoop:

116 calories
.7g fat
.7g fiber
5g carbs
21g protein
5g BCAAs

Free of dairy (cow's milk by products), soy and all animal products
100% raw vegan
Assists in making and maintaining muscle
Rawfusion is a vegan blend of 4 types of plant proteins:
Pea protein isolate
Sprouted brown rice
Artichoke protein concentrate
EFA-rich sunflower oil
The Rawfusion powder is unlikely to cause any stomach upsets as it is completely allergy and lactose-free. It has no artificial flavors or sweeteners and is sugar-free. Compared to other vegan protein powders it is also very reasonably priced (check here).
Unfortunately, it doesn't have the best flavor compared to whey powders. Plant-based protein powders are notorious for being chalky, gritty and just not very tasty. Rawfusion is definitely better tasting than others of it's kind but may take some getting used to if you've never experimented past whey powders.
For some, the only solution to a happy stomach is completely forgoing traditional animal protein sources. If you can handle whey isolates or any whey blend, Rawfusion is a GREAT plant-based diet alternative.
GNC is a popular brand but often looked down on as a cheaper brand. Their normal whey protein powders can cause stomach problems but before skipping them all together, try their Pro Performance 100% Whey Isolate powder.
Whey Isolate is essentially a double-processed whey that is finished through a microfilter system and an ion-exchange process. This turns the normal whey that causes problems into a much gentler whey isolate that has almost no lactose present.
Benefits of this 100% Whey Isolate include:
Nutrients per scoop:

140 calories
1g fat
2g sugar
4g carbs

Two flavors – Vanilla Ice Cream and Chocolate Supreme
28 grams of protein per serving
6 grams of BCAAs per serving
Easy digestion and fast absorption
Supports lean muscle growth
Boosts metabolism
Quickens recovery
Most people who can't tolerate regular whey can drink whey isolate with minimal stomach issues. You still get all of the benefits of traditional whey which makes this product a great choice.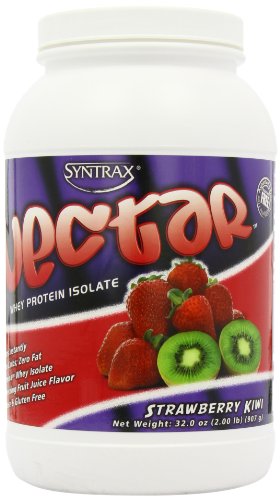 Syntrax Nectar is another Whey Protein Isolate option for sensitive stomachs. They might not be as well known of a brand as others but they do have a strong fan base. Being a smaller company they really focus on quality above all else.
Benefits of Syntrax Nectar include:
Nutrients per scoop:

100 calories
23 grams of protein

Has zero fat, sugar and carbs
11 flavors – Apple Ecstasy, Dragon Fruit Fusion, Lemon Tea, Roadside Lemonade, Fuzzy Navel, Caribbean Cooler, Pink Grapefruit, Strawberry Kiwi, Crystal Sky, Twisted Cherry, and Wild Grape
Made with the highest quality Promina Whey Isolate
Mixes easily into any liquid
Lactose and gluten free
When it comes to taste, Syntrax has really mastered the art of perfect fruity flavors. Most protein supplements are creamier flavors to resemble a milkshake. This brand went the other route and decided to focus on all fruit flavors. Mixed with water these will taste like juice. Or mix with almond milk and some fresh fruit for a tasty smoothie.
As mentioned before, since this is a whey isolate powder there shouldn't be digestive issues. Promina Whey Isolateis one of the best, if not the best, protein on the market.
Pro JYM is a protein blend created by Dr. Jim Stoppani. JYM Supplement Science is Dr. Stoppani's brand which specializes in top quality protein supplements. While most protein powders are made of only one source, Pro JYM is made up of a few specially selected types.
This particular product is a mix of 4 types of protein:
Whey Protein Isolate
Micellar Casein
Egg Albumin
Milk Protein Isolate
These four proteins break down into the following benefits:
Nutrients per scoop:

160 calories
5g fat
7g carbs
1g fiber
2g sugar

24 grams of protein – 12.5g of micellar casein, 9g whey and 2.5g egg white
Four flavors – Chocolate Cookie Crunch, Cookies & Cream, S'mores and Vanilla
A protein blend has a few different benefits. First off, they tend to be much gentler on the stomach than a pure protein source. Blends also help to maximize muscle growth, muscle recovery, and digestion. Each protein included in Pro JYM has a specific purpose and each digest at different rates. Occasionally fast-digesting proteins like pure whey can cause stomach problems so this layered blend can be a good solution.
Core Nutritionals was created by a husband and wife bodybuilding team who were tired of low-quality supplements that never delivered on their promises. They have a few different protein supplements suitable for serious athletes or the weekend warrior types. One of their best products for sensitive stomachs is their Core ISO powder.
Benefits of Core ISO include:
Two flavors – Chocolate Decadence and Peanut Butter Toffee
Nutrients per scoop:

105 calories
1g fat
1g carbs
23g protein

No artificial flavors or colors
Gluten and lactose-free
Increase muscle growth
Improves recovery time
Helps sustain muscle development
Though it only comes in two flavors, both are quite delicious. This powder blends well in water, almond milk or blended in a smoothie. The lack of fillers and artificial ingredients make this whey isolate powder an especially good choice for those prone to upset stomachs or digestive issues.
Final Scoop: Which is the Best Easy to Digest Protein Powder?
With the number of whey protein alternatives out there, there is no reason to suffer through stomach problems related to your supplement choice.
For most a whey protein isolate can solve their problems but others may be better off with a blend. Others may have to completely eliminate any artificial ingredients or animal products. In other cases, sometimes it's not whey causing the problem but some other ingredient causing stomach problems.
Remember that there can certainly be differences between brands so you may have to experiment before finding the right one for your body. It is worth it to ask supplement companies for samples before spending the money on a tub.
Taking the time to find that right supplement for you will be well worth it in the long run.
Bottom Line: I really Yuve All-in-One protein. It's a great non-dairy alternative, but doesn't skimp on the core ingredients that you need AND includes a unique digestive blend precisely made to target stomach sensitivities.
Still Haven't Found What You Want?
If you are willing to go out of the mainstream whey proteins, plant based supplements can be good for sensitive stomachs.
The caveat is that it's really dependent on your unique sensitivities. In general – however – I've found vegan supplements to be the most hypoallergenic and easier to digest than many whey blends.
Other Articles to Read:
—-
Disclaimer
Last updated: December 16, 2019
The information contained on www.altprotein.com website (the "Service") is for general information purposes only.
Alt Protein assumes no responsibility for errors or omissions in the contents on the Service.
In no event shall Alt Protein be liable for any special, direct, indirect, consequential, or incidental damages or any damages whatsoever, whether in an action of contract, negligence or other arising out of or in connection with the use of the Service or the contents of the Service. Alt Protein reserves the right to make additions, deletions, or modification to the contents on the Service at any time without prior notice.
Alt Protein does not warrant that the Service is free of viruses or other harmful components.
Fitness disclaimer
The Service offers health, fitness and nutritional information and is designed for educational purposes only. You should not rely on this information as a substitute for, nor does it replace, professional medical advice, diagnosis, or treatment. If you have any concerns or questions about your health, you should always consult with a physician or other health-care professional.
Do not disregard, avoid or delay obtaining medical or health-related advice from your health-care professional because of something you may have read on the Service. The use of any information provided on the Service is solely at your own risk.
You can also review our Editorial Integrity Policy.
Health enthusiast, runner, protein nut. Owen likes to write about protein, particularly alternatve supplementation and supplement comparisons.