Last Updated on by Owen Alexander
Both Nutrisystem and Bistro MD are well-known meal delivery programs or diet plans if you prefer, created for people who want to become healthier and lose weight in a balanced and safe manner but are not a natural chef or just don't have the time for preparing their food daily.
Some say that Nutrisystem delivery program is a more popular brand while others think that Bistro MD delivery meals have a better reputation. So, which one of these two programs is best for you or have the most delicious meals?
You're about to find out, in today's comparative review. I'll discuss the essential characteristics of the two food programs such as features, price, taste, meal plans, and more.
Brief Overview: BistroMD vs Nutrisystem At a Glance
| | | |
| --- | --- | --- |
| | BistroMD | Nutrisystem |
| Motto | Affordable and effective | Healthy and safe weight loss |
| Average price/meal | $10.50 (plus shipping costs) | $11 ($0 shipping cost for orders of at least $50) |
| Best for | Clients who want a customized weight loss solution | People who want to become slimmer while enjoying 6 meals per day |
| Meal options | 150-200 meal options | Over 150 meal options |
| Suitable for | Meals for one single person | Meals for one plus meals for seniors |
| Delivery areas | 50 states | 50 states |
| Meal types | Vegetarian, low-fat, diabetic-friendly, weight-loss meals | Gluten-free and weight-loss meals |
| My personal rating* | 9.6/10 | 9.5/10 |
*The final rating is based on the following factors: meal variety, meal options, portion size, price, nutritional value, and the level of flexibility.
BistroMD vs Nutrisystem – What Are They?
BistroMD
The first diet food program, Bistro MD, is a weight-loss solution that focuses on healthy meals and delivery services. Dieters can now enjoy tasty and fully prepared meals that are customized to suit each client's gender, age, body type, measurements, and personal dietary needs.
Bistro MD delivery program was launched on the market in 2005, in Naples, Florida. The company's mission is to help dieters all over the world lose weight healthily and effectively by consuming home-delivery dishes that are carefully planned and prepared by experienced chefs with an amazing taste.
Nutrisystem
Nutrisystem food delivery is highly convenient as well as an affordable program that can help clients shed plenty of pounds due to its combined system of balanced nutrition, smaller portions, and more frequent meals with amazing taste and ingredients.
This diet meal provider is based in Pennsylvania and although, at first, the company was selling its products in several brick-and-mortar locations, nowadays all their services and products are marketed online and via a call center.
Nutrisystem meal delivery service has become one of the most popular weight-loss solutions in the United States due to the company's claim that it can help dieters shed up to more than 10-12 pounds in only one month.
Another appealing feature of Nutrisystem food delivery is its level of effectiveness together with its easily-personalized meal plans made by a chef. They are good at helping you adjust their prepared meal plans to your unique nutritional and dietary needs.
Bistro MD vs. Nutrisystem – How Do They Work?
Bistro MD
Bistro MD meal delivery service has developed a simple and easy-to-follow system for all its clients. All you have to do is following these four steps:
Step 1 – choose your desired eating plan that suits your unique needs. There are several available plan options, but you'll discover them later on;
Step 2 – feel free to customize or adjust your chosen prepared meals plan until it matches your preferences. You can easily do that by creating a personal account on the website. Also, to make the process of customization a lot more accessible, Bistro MD has created the MyBistroMD meal delivery service. Through this online tool, clients can choose their preferred meals or adjust their initial plan;
Step 3 – place your order. You can order prepared meals online, on their website, or via their phone number;
Step 4 – after choosing and ordering your meal plan, all there's left to do is wait for a couple of days until your order is delivered to your doorstep like if you had your own chef at home!
Some people are worried about the fact that Bistro MD prepared meals are frozen, but the company claims that their food is of the highest quality. This food delivery program will save you a lot of time, and it is very convenient for people who want to lose weight and take care of calories, but they are too busy to cook their breakfast, lunch, dinner, etc. Instead, with the Bistro MD diet meal plan, you need to heat the meals up in the microwave and enjoy them.
Nutrisystem
Nutrisystem meal delivery service became so successful due to a simple formula that the company applies to help millions of dieters shed their extra pounds and calories quickly and effectively. All the program's meal options are based on three main pillars: balanced nutrition, portion control, and the consumption of small yet frequent meals:
Balanced nutrition – the system's representatives make sure that all their meals are nutritionally-balanced and that they contain the right proportion of protein, healthy fats, minerals, sodium, and vitamins. This way, you will remain satisfied and strong during the entire day;
Portion control – the company's experts will calculate your optimal calories intake which allows you to save a lot of time and enjoy Nutrisystem's a delicious taste in food in moderation;
Frequent meals – this eating plan encourages dieters to include up to six meals per day in their eating habits which helps them avoid hunger and cravings.
When you first become a client of this delivery meals program, you will benefit from a couple of free perks such as plan recommendations and a diet analysis which are both based on your body's mass index. Clients can choose from several available plan alternatives, but I'll discuss that in detail in the following section. Besides these pre-arranged plans, you can also opt for dishes that are included in the company's a la carte menu.
The best part is that you can adjust, change, cancel, or pause your membership any time you feel like it. To cancel the subscription, you must contact Nutrisystem customer support via phone.
Why I Actually Like Nutrisystem Price: Look, in a perfect world I would recommend everyone just practice some self-control... but sometimes "sticking to a system" is what works best. For clients I work with who "just need a plan", Nutrisystem is one of the plans I recommend. Try Nutrisystem
I earn a commission if you click this link and make a purchase at no additional cost to you.
What Makes These Programs Stand Out?
Bistro MD
This meal delivery service differentiates itself from other similar prepared meals programs through the approach it uses. What I mean is the entire system works on a scientifically-based method as the foundation for the company's plans.
Unlike other diets that claim to help you unrealistically lose weight, Bistro MD delicious meals rely on both research and science. Caroline J. Cederquist, M.D. who is the company's weight-loss specialist, has acquired over two decades of experience in the medical and nutrition field. She has created a team of certified dietitians. All these professionals make sure their meals and diet meal plan meet the requirements of a healthy and safe weight loss system.
Another important aspect that makes Bistro MD meal plan stand out is the approach of its employees when it comes to designing specialized meal plans that target men and women, separately. In fact, there are multiple alternatives for both genders which provide clients with the opportunity to accomplish all their nutrition goals.
Nutrisystem
So, what about Nutrisystem? How is this program any different from Bistro MD or any other weight-loss system for that matter?
Well, I must start with its unique philosophy. Nutrisystem can help you get in shape and regain control over your body, regardless of your body measurements, gender, age, dietary restrictions, and nutritional requirements. This is not a restrictive diet, and it won't make you starve.
Those types of eating plans are ineffective as long-term solutions because they make accumulate frustrations and they have a yo-yo effect which can also negatively impact your general health.
Unlike starvation diets, Nutrisystem enables you to enjoy the foods you like, in small portions, without feeling hungry. You will eat up to 5-6 times per day so you won't even feel like you're on a diet. This way, the bounce rate among dieters is a lot lower than the one of a regular weight-loss regimen.
Furthermore, all Nutrisystem meals are rich in fiber and protein while also being low in carbs and sodium which makes them nutritionally-balanced.
However, this program is much more than a simple eating plan. Clients will also receive useful grocery guides, additional tips and recommendations, online tools and progress trackers, and counseling from experienced dietitians.
Meal Plans and Recipes
Bistro MD
There are three main meal options that you can choose from when you become a member of the Bistro MD meal choices community: meals for singles, weight-loss plans, and gluten-free diets. All the company's prepared recipes have the sole purpose of supporting a controlled weight loss. There aren't any occasional treats or, how I like to call them, guilty pleasures, but all meals are equally healthy and delicious. The most comprehensive plan is the one that delivers three meals per day.
Besides the possibility to customize your entire menu, you can also choose specific plans like meals that are suited for people with diabetes or allergic to gluten, plans that are dedicated to women who go through menopause, and the silver plan which is heart-healthy and low in sodium. If you enroll in the Bistro MD program, you will consume between 1,100 and 1,400 calories per day, depending on your chosen plan.
Regarding the recipes, all Bistro MD dishes are cooked by professional chefs, and they contain healthy fats, lean protein, and low-glycemic carbohydrates. Something I must point out is how amazingly delicious these recipes are which is entirely opposite to what one would expect when following a weight-loss diet.
From juicy turkey breast with stuffing and cranberry sauce to grilled salmon and peanut butter crepes, you will have the chance to experience a wide range of tasty yet healthy recipes.
Nutrisystem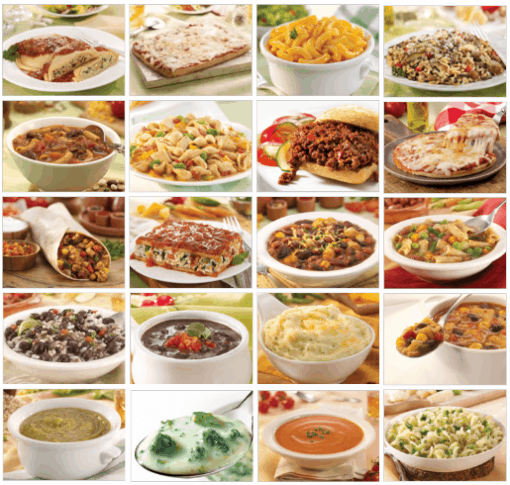 Unlike Bistro MD, Nutrisystem offers a higher number of possible meal plans. You can choose one of the following meal options: for diabetic people, low-fat, weight-loss plans, vegetarian-friendly, meals suited for singles, and foods suited for seniors.
The Nutrisystem program features over 150 food choices in its menu. You will find multiple options for all the important meals of the day, including snacks, protein bars, and shakes. All these items are free of trans fats and artificial sweeteners.
Something that makes people pick Nutrisystem instead of Bistro MD is the fact that they also provide fresh produce besides frozen meals. Now, it is time to discover the company's individual plans:
The Basic plan – it is the least expensive plan but you can choose your meals from a limited variety of options, and it doesn't include tools or counseling;
Uniquely Yours – if you want a lot of flexibility, this is the right choice for you. The menu consists of over 150 food items;
The Vegetarian Option – you will receive only meat-free meals, and you can select from more than 90 menu items.
The Core plan – this option is similar to the vegetarian plan only that this one includes meals that contain meat. There are more than 100 meals in this plan's menu;
Uniquely Yours Plus – in addition to the Uniquely Yours program, this one will also offer a one-month supply of Nutrisystem shakes;
A diabetic-friendly plan – all of the plans listed above can also be purchased in a diabetic-friendly version which means that all the meals are carefully crafted to lower your sugar intake and reduce your body's insulin levels.
Why I Actually Like Nutrisystem Price: Look, in a perfect world I would recommend everyone just practice some self-control... but sometimes "sticking to a system" is what works best. For clients I work with who "just need a plan", Nutrisystem is one of the plans I recommend. Try Nutrisystem
I earn a commission if you click this link and make a purchase at no additional cost to you.
Pros and Cons
Bistro MD
Pros
All the meals are delicious, and professional chefs cook them;
The company designs all its meal plans based on a scientific approach;
Clients will be pleased with how many customization options the program provides;
The brand is a reliable and trustworthy one, and the company has an excellent reputation.
Cons
You will receive all the meals in a frozen form;
Some clients complained about the fact that the food quality varies from one meal to another.
Nutrisystem
Pros
Dieters can choose from over 150 meal options so they will never get bored;
This program offers personalized and flexible meal plans;
The meal plans' prices are surprisingly affordable;
Clients will benefit from an excellent customer support;
Their meal plans are suitable for vegetarians, omnivores, and diabetics;
The company offers a money-back guarantee.
Cons
Some of the meals are frozen which may concern some of you and become a potential drawback of the program;
The system could include a broader range of unique diet options.
Pricing Options
Bistro MD
The price varies according to what type of plan you choose to order. There are types of programs: full ones and only lunches and dinners:
5 days – $112.46;
7 days – $134.96.
5 days – $89.96;
7 days – $112.46.
Nutrisystem
Nutrisystem's price also varies depending on the plan option you purchase:
Bottom Line: Nutrisystem or BistroMD?
So, now you know plenty of details about each of these two weight-loss programs.
Bottom Line: If you ask me which one is the best, I would have to say that it is hard to choose one because Bistro MD might offer fresh gourmet meals and a higher level of flexibility but Nutrisystem is significantly more affordable, and it also provides you with Lean 13 which is a weight-loss kick-start guide.
In conclusion, it depends on what you want to accomplish and what your preferences are.
Why I Actually Like Nutrisystem Price: Look, in a perfect world I would recommend everyone just practice some self-control... but sometimes "sticking to a system" is what works best. For clients I work with who "just need a plan", Nutrisystem is one of the plans I recommend. Try Nutrisystem
I earn a commission if you click this link and make a purchase at no additional cost to you.
Recommended Reads:
Alexandra is a passionate and reliable content writer with skills in SEO optimizing and editing as well. She has a versatile writing style and her main areas of expertise are nutrition, fitness, health, wellness, and personal growth. In addition, she simply loves writing articles in the aforementioned fields because she also speaks from her personal experience. Apart from content creation, her hobbies are horseback riding, playing the piano, traveling, and reading.