Last Updated on by Natalia Bickell
In today's fast-paced society it is hard to balance nutrition and ensure we are consuming the vitamins and minerals that the human body needs.
This is where "superfoods" or supplements fill that void to help simplify your health. These supplements come in both a capsule form or a powder form and are easy to consume.
They are full of raw vegetables, fruits and fiber nutrients that are important for a healthy body. While these supplements can never replace the real fruits and vegetables, they certainly can boost your intake and help to improve your overall health.
I Personally Prefer Texas Superfood
Personally I prefer the more complete nutrient profile offered by Texas Superfood. It also helps that it's a good deal less expensive than comparable supplements.
I earn a commission if you click this link and make a purchase at no additional cost to you.
There is no restriction on who can consume these products. Most people need more vitamins and nutrients in their everyday diet.
Main Differences Between Texas Superfood vs Balance of Nature
The main differences between Texas Superfood and Balance of Nature are:
Texas Superfood offers an explicit 30-day risk free trial, whereas Balance of Nature does not
Texas Superfood also targets sleep cycle improvement, whereas Balance of Nature does not
Balance of Nature contains primarily fruits and vegetable nutrients, whereas Texas Superfood goes beyond
Texas Superfood is generally about 15 to 20% cheaper than Balance of Nature
When searching for the right product, you may find it overwhelming looking at the number of products that are available. If you are unsure or want to try something new, we have narrowed it down to these two, Texas Superfood and Balance of Nature Whole System.
Bottom Line Up Front: If you are in a rush, my bottom line is that Texas Superfood  is a much better value for the money here. Otherwise, the ingredient profiles are quite similar…
When comparing the two there are several advantages of both supplements. Review the table below for a quick comparison.
Balance of Nature versus Texas Superfood
| | |
| --- | --- |
| Texas Superfood | Balance of Nature Whole System |
| Aids in the Body's natural detoxification process | The right balance of soluble and insoluble fiber |
| Optimizes energy and stamina | No sugars or artificial sweeteners |
| Supports a healthy weight | Over 10 servings of fruits & vegetables daily |
| Enhances sleep cycles | No synthetics, extracts or fillers |
| Revitalizes immune system | Powerful antioxidants |
| Comes in capsules & powder form | Use both capsules and powder form daily |
| All natural | All Natural |
| 30-day risk-free trial | 2 easy ways to order |
Texas Superfood is made in the state of Texas in the United States of America by a company called NuPlexa. NuPlexa also is known as the NuPlexa Group and the NuPlexa Wellness Centers of America. The Better Business Bureau gives NuPlexa Group an A- for its rating.
The owner of the company is Dr. Dennis Black ND who is a doctor of natural medicine. Texas Superfood also provides a money back guarantee which is 30 days. The 30 days starts the day you order
the product.
Superfood Ingredients
Finding the ingredients for this product takes a little research. They do not show you a nutrition label upfront. The company wants you to click on their website to view the ingredients. They vaguely state that there are 30 fruits, 25 vegetables, nine enzymes and eight greens that make up this superfood.
The capsules form and the powder both contain the same ingredients. There is not much of a breakdown of the concentrations that are in this product, and it does not let you know if they are from an extract or powder. Listed below is the nutrition label for the product.
It also states that the nutritional value of this product has not been verified by the FDA or the Food and Drug Administration.
I earn a commission if you click this link and make a purchase at no additional cost to you.
Value
Texas Superfood has been labeled as one of the most expensive supplements on the market. It is currently at $79.95 for an 18 serving package. If you broke that down further it is about $4.44 per serving (check this listing for the latest live prices).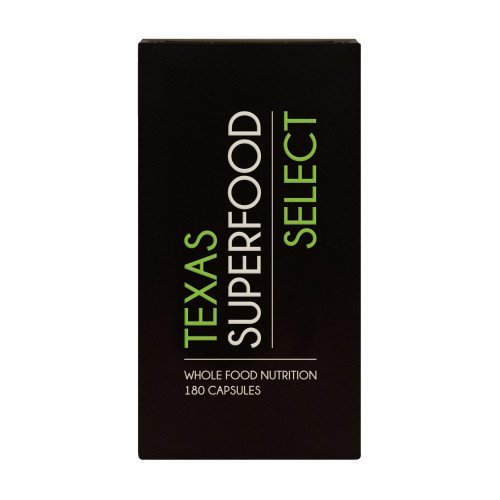 Taste
The Texas Superfood has a decent taste. If compared to other supplements the taste is pretty normal with only a hint of an algae taste. The nice thing though is that you can get it in capsule form, so you do not have to drink the powder mix. If you do choose to go with the powder, there is always the option of mixing the powder with any fresh fruit juice.
Overall, the Texas Superfood seems to have good intentions when compared to other superfood supplements. It is however somewhat expensive and the nutritional facts are not well laid out.
Balance of Nature Whole System: The All-Natural Supplement
The Balance of Nature Whole System supplements is supposed to help your overall health by using "real" whole food nutrition. The owner Dr. Douglas Howard is a physician from America. He stated this company in the early 1990's. Dr. Howard has an extensive background, and there is a small section on the website that details his background and how the company was founded.
This company is not accredited with the Better Business Bureau, and when you research, it looks as though they do not have a good rating with them. This is likely due to not being accredited and some
customer complaints.
Ingredients
The ingredient list is available, and they have the actual labels for customers to view. There is the nutritional label for the Fiber and Spice powder that you will consume two times daily. There are also separate nutritional labels for the Fruit supplement and for the Veggie supplements that you will consume three capsules of each.
The only issue would be that the exact amount of each ingredient is not broken down. I have listed below the nutritional labels so you can view them yourself. There are also videos that can be viewed to show you the proper way to take your supplements.
Fiber & Spice Powder
This powder is easy to mix and can be combined with any fruit juice or just plain water. This powder is to be consumed once in the morning and again in the evening before bed.
| | | |
| --- | --- | --- |
| Supplement Facts | | |
| Servings per container: 30 | | |
| Serving size: 2 Heaping Scoops (16.67g) | | |
| Amount per serving | % Daily Value | |
| Total Carb. | 9.3g | <2% |
| Dietary Fiber | 10.1g | 40% |
| Soluble Fiber | 7.2g | |
| Insoluble Fiber | 2.9g | |
| Total Omega Fatty Acids | 1080mg | |
| Omega 3s | 830mg | |
| Omega 6s | 250mgr | |
| Ingredients: | | |
| Psyllium Husk | | |
| Flax Seed | | |
| Whole Apple | | |
A Proprietary Blend of Whole Spices (Allspice, Cardamon, Cinnamon, Cloves, Coriander, Cumin, Fennel Seed, Fenugreek, Ginger Root, Mustard, Nutmeg, and Tumeric)
NO ADDED SUGARS
NO ARTIFICAL SWEETENERS
The Fruit & Veggie Supplements
These supplements come in a capsule form, and for the Fruit and the Veggie supplements, they should both have three capsules taken once daily. It states that there are 31 one of the highest quality fruits and vegetables that are flash dried and ground down into this pill form. Again it does not state the exact amounts just that they are in there.
Note: You can purchase JUST the Fruits and Veggies cocktail separately here. This way you can mix and match and aren't locked into buying the "whole system" if you don't need it.
Servings per container: 30
| | |
| --- | --- |
| The Fruit Supplement | The Veggie Supplement |
| Serving size: 3 capsules | Serving size: 3 capsules |
| Amount per serving: 2.4g | Amount per serving: 2.4g |
| Proprietary Blend* | Proprietary Blend* |
| Aloe Vera | Broccoli |
| Apple | Cabbage |
| Banana | Carrot |
| Blueberry | Cauliflower |
| Cherry | Cayenne Pepper |
| Cranberry | Celery Stalk |
| Grape | Garlic |
| Lemon | Onion |
| Mango | Shiitake Mushroom |
| Papaya | Spinach |
| Pineapple | Wheat Grass |
| Rasberry | Zucchini |
| Tomato | *Daily Value not established |
| *Daily Value not established | NO HEAT OR AIR DRY PROCESSING |
| NO HEAT OR AIR PROCESSING | No animal products used |
| No animal products used | |
As mentioned on the label this supplement product uses flash-drying, which is a freeze drying technique. This technique preserves the nutrients in the fruits and vegetables. It is done with pressure, and the fruits and vegetables are not exposed to the air, such as is the case with air drying processes. When using the fruits and vegetables, it is stated that only naturally grown products are used.
Taste
When drinking the Fiber & Spice supplement powder it is recommended that you mix it with 16 ounces of water or juice. The most popular way that tastes the best is to mix half water and half apple juice with your powder. This makes it taste like a spiced apple cider. It is also recommended that as soon as you stir the supplement into the liquid, it should be consumed immediately.
There are a few ways to consume the Fruit & Veggie capsules. The Fruit supplement tastes very good; it has a sweet taste to it. Some people prefer to snack on the supplements and will consume more than the three capsules, this is fine but may become expensive.
Others just take the recommended three capsules in the morning with a glass of water. It is all to your personal preference. The Veggie capsules tend to be a little spicy. They have several strong flavors due to the ingredients. There is a difference of opinion on this taste, you either like it or do not like the taste.
Some people choose to chew the supplements, which is fine and will not harm you in any way. Others open up the supplement and sprinkle the ingredients onto a salad or any other type of food. The third way to consume these supplements is just to take the three capsules with water around lunchtime.
It is recommended that you take the veggie supplement around lunch or in the early afternoon because some of the ingredients make your body more alert and if taken closer to bedtime it may interrupt your sleep pattern.
Value
The overall value is pretty much within the normal range. The Whole Health System includes a 30 day supply of the Fiber & Spice powder as well as a 30 day supply of the Fruit & Veggie Supplements. The company gives you two separate options to order.
The first is purchasing at the preferred customer price; this means that you will pay a one-time fee of $24.95 and your order will come monthly at the cost of $109.95. The preferred customer also gets access to several other amazing benefits that are detailed on their website.
Also, with the preferred customer status, you get a money back guarantee. This guarantee is good up to 30 days after you order the product. If choosing to order retail the cost is $159.95, and it will not be on a reoccurring shipment status.
Another convenience is that you have the option to just order the Fruit supplement, the Fiber & Spice powder or just the Veggie supplement. This is a nice feature if you run out of just the one product and still have the other products left.
Deciding Between Texas Superfood or Balance of Nature
I Personally Prefer Texas Superfood
Personally I prefer the more complete nutrient profile offered by Texas Superfood. It also helps that it's a good deal less expensive than comparable supplements.
I earn a commission if you click this link and make a purchase at no additional cost to you.
When it comes down to choosing the right supplement that will meet your needs several factors need to be taken into consideration. Some of these factors are the price for the amount of the product, the taste of the product and the reputation of each company.
As listed above, all of these factors were compared for the Texas Superfood and The Balance of Nature Whole System.
Now it comes down to your own opinion. There are no side effects for either product, and both seem to be good for you. In my opinion, based on my research I would personally choose Texas Superfood.
I feel that the product description is laid out better, and this company seems to be more upfront, but my huge deciding factor was the price. Texas Superfood is definitely cheaper, for a similar value proposition.
Bottom Line: If deciding between the two, I definitely lean towards the better value provided with Texas Superfood here.
Related Products to Compare
I've research a LOT of products in the "green supplement" space. Here's some additional research to check out if you are still looking for a solution:
—-
Disclaimer
Last updated: December 16, 2019
The information contained on www.altprotein.com website (the "Service") is for general information purposes only.
Alt Protein assumes no responsibility for errors or omissions in the contents on the Service.
In no event shall Alt Protein be liable for any special, direct, indirect, consequential, or incidental damages or any damages whatsoever, whether in an action of contract, negligence or other arising out of or in connection with the use of the Service or the contents of the Service. Alt Protein reserves the right to make additions, deletions, or modification to the contents on the Service at any time without prior notice.
Alt Protein does not warrant that the Service is free of viruses or other harmful components.
Fitness disclaimer
The Service offers health, fitness and nutritional information and is designed for educational purposes only. You should not rely on this information as a substitute for, nor does it replace, professional medical advice, diagnosis, or treatment. If you have any concerns or questions about your health, you should always consult with a physician or other health-care professional.
Do not disregard, avoid or delay obtaining medical or health-related advice from your health-care professional because of something you may have read on the Service. The use of any information provided on the Service is solely at your own risk.
You can also review our Editorial Integrity Policy.
Health enthusiast, runner, protein nut. Owen likes to write about protein, particularly alternatve supplementation and supplement comparisons.