Last Updated on by Radica Vuckova
Vega One is one of the higher end protein shake options that many people have referred me to. After experimenting with a vegan diet, I decided to try Vega One out to see if it could measure up to other shakes that I had tried. Vega One is particularly intriguing because it has a wholistic plant-based mixture. With a full nutritional profile, there is a lot to like about Vega, including the fact that it is a 100% vegan dairy-free health supplement (Check out the 7 best tasting vegan protein powders).
For the purposes of this review, I looked at the all-in-one protein blend, which also happens to be the most popular selection according to customer reviews and ratings.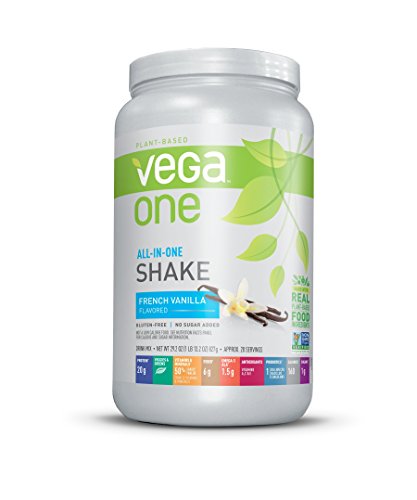 Features of Vega One
The following are some of the notable features that stood out to me:
Pros of Vega One
Cons of Vega One
Price: At close to $55-70 per container retail For the latest prices and discounts, check here, Vega One is not the cheapest protein supplement. I maintain that you get what you pay for, but I do understand that this might be outside some folks budgets. Thankfully, Amazon is having a pretty good deal here, where you can save a good amount.
Vega One vs Shakeology
In researching and using Vega One, I came across a lot of comparisons to Shakeology. Having tried Shakeology a few times, I also wanted to compare them to each other for our readers.
Now a lot of people have a vested interest in promoting shakeology because of the network marketing aspect of it, so it's pretty hard to fine 100% honest information online. With this in mind, I wanted to take some basic criteria to compare the two products. Here are the main points of comparison that I have found:
At A Glance: Shakeology vs Vega One Comparison Table
[thrive_leads id='907′]
Where to Buy Vega One
Hopefully this Vega One shake review has helped you make a purchasing decision. Like I mentioned earlier, the best place to find consistently good savings is at Amazon. I've checked out the other retailers and their prices are always at least a few dollars higher. See below for updated live pricing details.
Additional Readings:
Health enthusiast, runner, protein nut. Owen likes to write about protein, particularly alternatve supplementation and supplement comparisons.